Structural insulated panels (sips) meet the demands of tomorrow, today...
Building with sips produces less timber waste than other forms of construction. Manufacturing the panels in a factory environment allows us to minimise our use of raw materials. Waste created in the cutting of the pre-engineered panels can be collected and recycled.
Low U-value walls and roof
Our sips offer extremely high thermal performance. The Expanded Polystyrene (EPS) layer of rigid insulation, achieves U-Values as low as 0.22W/m2K or better, making savings of up to 60% on heating costs.
Insulation is integral to the sips system, ensuring that the insulation is consistent and complete. Other methods of construction may leave areas of reduced insulation that do not meet the intended specification.
Due to the continuity of the Expanded Polystyrene (EPS) layer of rigid insulation, the sips system greatly enhances thermal reliability compared with other insulation which often sags or slumps over time.
Carbon Dioxide (CO2) Emissions
For the home countries (Scotland, England & Wales) there are separate Building Regulations requirements for carbon Emission Standard in new build housing. For External Walls Scotland identifies 0.19 W/m2K (to be reviewed in 2015), England (as of April 2014) 0.15 W/m2K, and Wales (which is splitting from England in 2014) proposed 0.18 W/m2K. Part L 2013 covers England only. Wales will have its own building regulations, expected later in 2014. Scotland is expected to update its regulations in 2015.
| | | | |
| --- | --- | --- | --- |
| U-VALUE | ENGLAND | SCOTLAND | WALES |
| Wall | 0.15 W/m2K | 0.19 W/m2K | 0.18 W/m2K |
| Roof | 0.12 W/m2K | 0.13 W/m2K | 0.13 W/m2K |
| Floor | 0.13 W/m2K | 0.15 W/m2K | 0.13 W/m2K |
| Window/Door | 1.20 W/m2K | | 1.40 W/m2K |
| Party Wall | 0.20 W/m2K | | |
The reason for this improvement is to cut down on the emission of CO2 gas into the atmosphere. An average domestic dwelling on the old U-values will create and emit up to 11 tonnes of CO2 per annum.
The sips Industries panel in standard form achieves a U-value of 0.30W/m2K; comfortably below the current minimum.
Timber from renewable sources
sips Industries buildings use whitewood timber which is sourced from managed plantations through a recognised timber supplier and sawmills. This timber is vacuum treated, a process that uses no solvents. FSC and PEFC accreditation.
Reduced timber quantity
sips panels are typically jointed at 1200mm centres, giving a saving of approximately 50% in timber, when compared to standard timber frame construction.
Keep Up-to-Date
Stay informed on the latest SIPS Industries and Self Building news by signing up to our monthly newsletter:
Get In Touch
For further information or all general enquiries about sips panels and projects, please fill in the enquiry form below:
Brochure Download
To download pdf files of our sales brochure and other sips technical specifications documents please click below: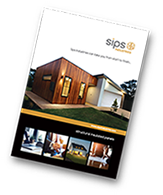 Follow Us on Social Media
Accreditations and Qualifications